Jerry Csaba
One of Ottawa's most distinguished violinists and pedagogues, Jerry was a founding member of the National Arts Centre Orchestra and performed as a member of the first violin section for over four decades.
Location: Downtown
Availability: TBC
More about Jerry...
Born in Houston, Texas, Jerry Csaba started the violin in the public school system around the age of ten.  She was very fortunate to begin her orchestral experience almost immediately in the Houston Youth Symphony.  She studied at the University of Texas and worked her way through school by teaching in the Junior String Project, under the supervision of her U. of T. music professors, until she graduated with a Bachelor of Music Education.  Playing in the Austin Symphony for four years further supported her studies.
In her early twenties, she joined the Montreal Symphony Orchestra, under the direction of Zubin Mehta, the year of the opening of the Place des Arts.  These years were full of excitement with internationally known soloists and conductors.  She also performed as a member and soloist with the McGill Chamber Orchestra.  After that she played in the Rochester Philharmonic for one year, then she and her husband came back to Canada to become founding members of the NAC Orchestra until she retired in 2003.  Being concertmaster of the Thirteen Strings Chamber Orchestra for almost twenty years, was an important part of her career as it offered many opportunities for personal expression as a leader and soloist.  Throughout her years in Ottawa, she played very often with the Music for a Sunday Afternoon series and worked and played with chamber musicians from around the world.
During all of these years, she taught privately, and coached chamber groups and amateur musicians to share some of her experience.  Her guiding lights, since her arrival in Canada, were Yaela Hertz and Lorand Fenyves.  From them, she learned to express the inner soul of music and to pass it on to others.
Natalie Harrison
"Children and I relate to each other very well. I am very patient and always encourage their progress, while at the same time, I expect progress to be made in the study of their instrument. It gives me great pleasure to observe the joy a child feels when they can play a new piece. This is even more pronounced in a public concert setting."
Natalie has several years of experience working as a special needs music teacher at the Lotus Centre for Special Music Education. With a passion for volunteering, Natalie volunteers to play the violin at various retirement homes in the Ottawa region.
Location: Woodroffe and Baseline
Availability: No
More about Natalie...
Born and raised in the city of Ottawa, Natalie Harrison has been playing the violin since the age of three. Her first violin teacher was Rosemarie Klimasko, co-founder of Ottawa Suzuki Strings. Other violin teachers have included Sarah Williams, Karoly Sziladi and Yehonatan Berick. Natalie recently completed a music degree at the University of Ottawa. Her conducting teachers included David Currie and Laurence Ewashko.
Natalie has played in various local youth orchestras including the Ottawa Youth Orchestra where she was the principal second violinist. She successfully competed in many music competitions and festivals such as the Kiwanis Music Festival and Pembroke Fiddle and Stepdance Contest. Natalie has performed and recorded professionally with Acadian singer Jeanette Arsenault.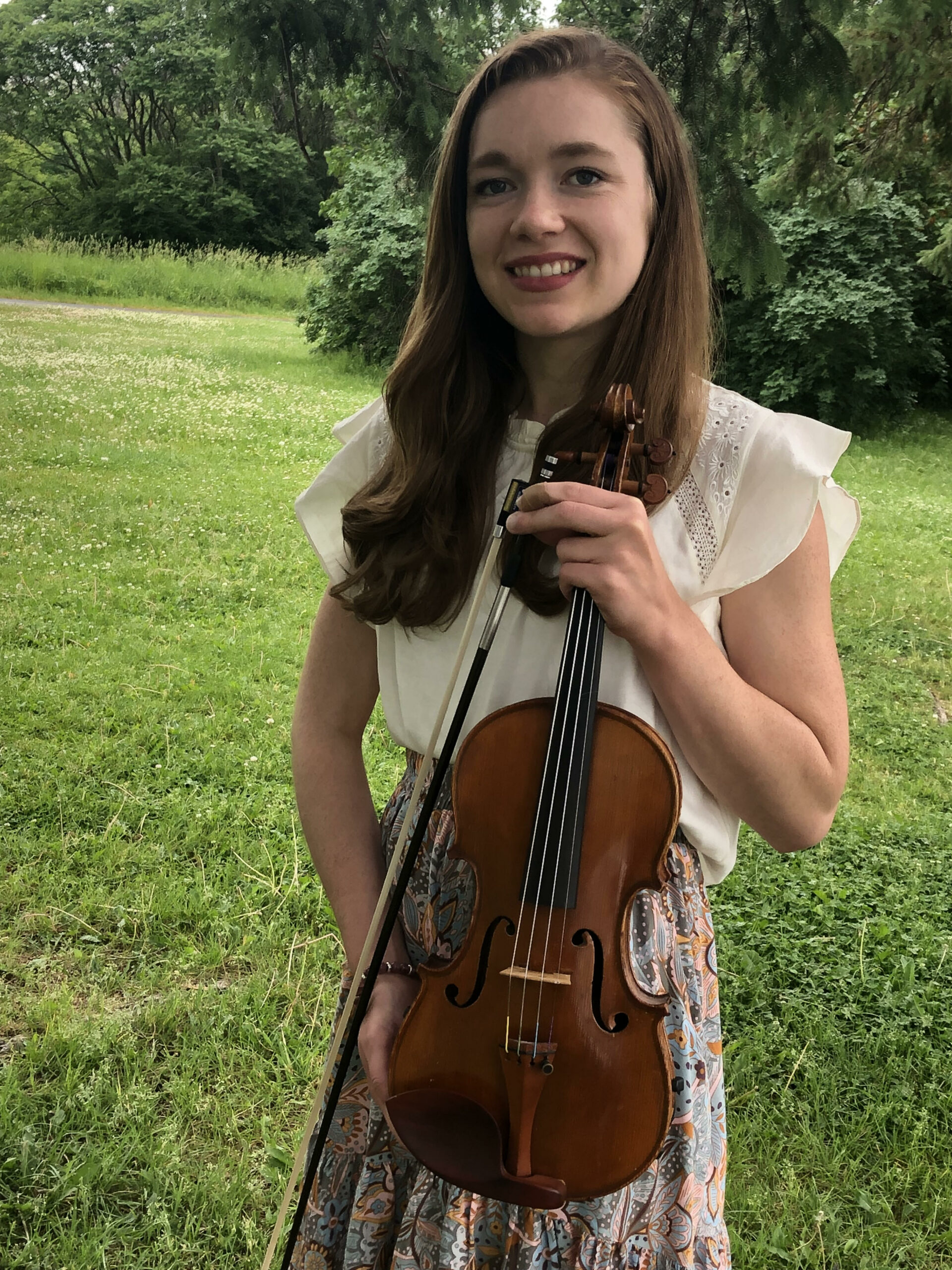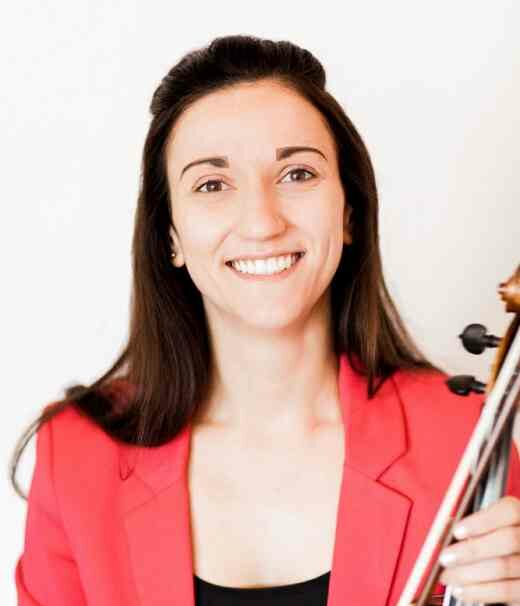 Kiri-Christina Hauck
"Every day is different and unique, children develop and grow. Seeing them become incredible young human beings inspires me on the day-to-day, and I have a very strong passion for passing along my knowledge of music, just as it was passed on to me."
Kiri-Christina performs in various ensembles including the Kingston Symphony Orchestra. She is a member of the 2022 Suzuki Conference Committee and the Suzuki Music Canada Committee. Kiri-Christina has completed her Suzuki Teacher Training books 1-4 and Every Child Can with Paule Barsalou, Karen Kimmett and Martha Shackford.
Location: Mooney's Bay [Bank and Walkley area]
Availability: Yes
More about Kiri-Christina
Kiri-Christina Hauck is a graduate of Queen's University with a Bachelor of Music. She has been involved with the Suzuki method for the majority of her life, having started Suzuki violin in Ottawa at the age of 4. When she was 12, she realized that teaching was going to be part of her lifetime career. Kiri-Christina has been a registered Suzuki violin teacher for 10 years. She believes that the environment provided by the Suzuki method creates beautiful people whether a student plans to become a professional, part-time musician or just have a fun hobby. She is a huge believer that every child can become a violinist so long as they have support from their parents and teachers and love what they are doing.
Zhengdong Liang
A member of the National Arts Centre Orchestra, Zane's work with Ottawa Suzuki Strings includes coaching the advanced ensemble Stellae Boreales as well as individual lessons. Zane is an avid orchestral musician. Prior to returning to Ottawa, Zane has most recently served as a concertmaster of New World Symphony (Miami), and The Orchestra Now (NY). In addition, he performed at Carnegie Hall as a member of the New York String Orchestra Seminar and has toured worldwide with the National Youth Orchestra of Canada as an active chamber and orchestral musician.
Location: Downtown
Availability: Yes
More about Zane...
Zhengdong Liang (Zane) has been a part of the OSS family since the 2022-2023 season. Born in Guangzhou, China, he began to learn the violin at the age of three from his grandfather. At the age of sixteen, Zane immigrated to Canada and continued his musical studies in Edmonton. Since then, he has been active in community engagements in the city where he resides. His engagements include performing at the Winspear Center in Edmonton and playing as a soloist with the city's orchestra in numerous venues across the community. Zane holds a master's degree from the Mannes School of Music in New York City and a bachelor's degree from the University of Ottawa. His teachers include Frank Ho, Yehonatan Berick, Yosuke Kawasaki, and Shmuel Ashkenasi. His music education was generously supported by Edmonton Community Foundation for six consecutive years and with prestigious scholarships from each institution.
Notable collaborations include Gil Shaham, Christian Tetzlaff, Martin Fröst, Michael Tilson Thomas, James Ehnes, Stéphane Denève, Jörg Widmann, and Alexander Shelley. Other than playing music, Zane enjoys teaching, playing sports and cooking with his wife. He used to be the top striker in the music conservatory's soccer team.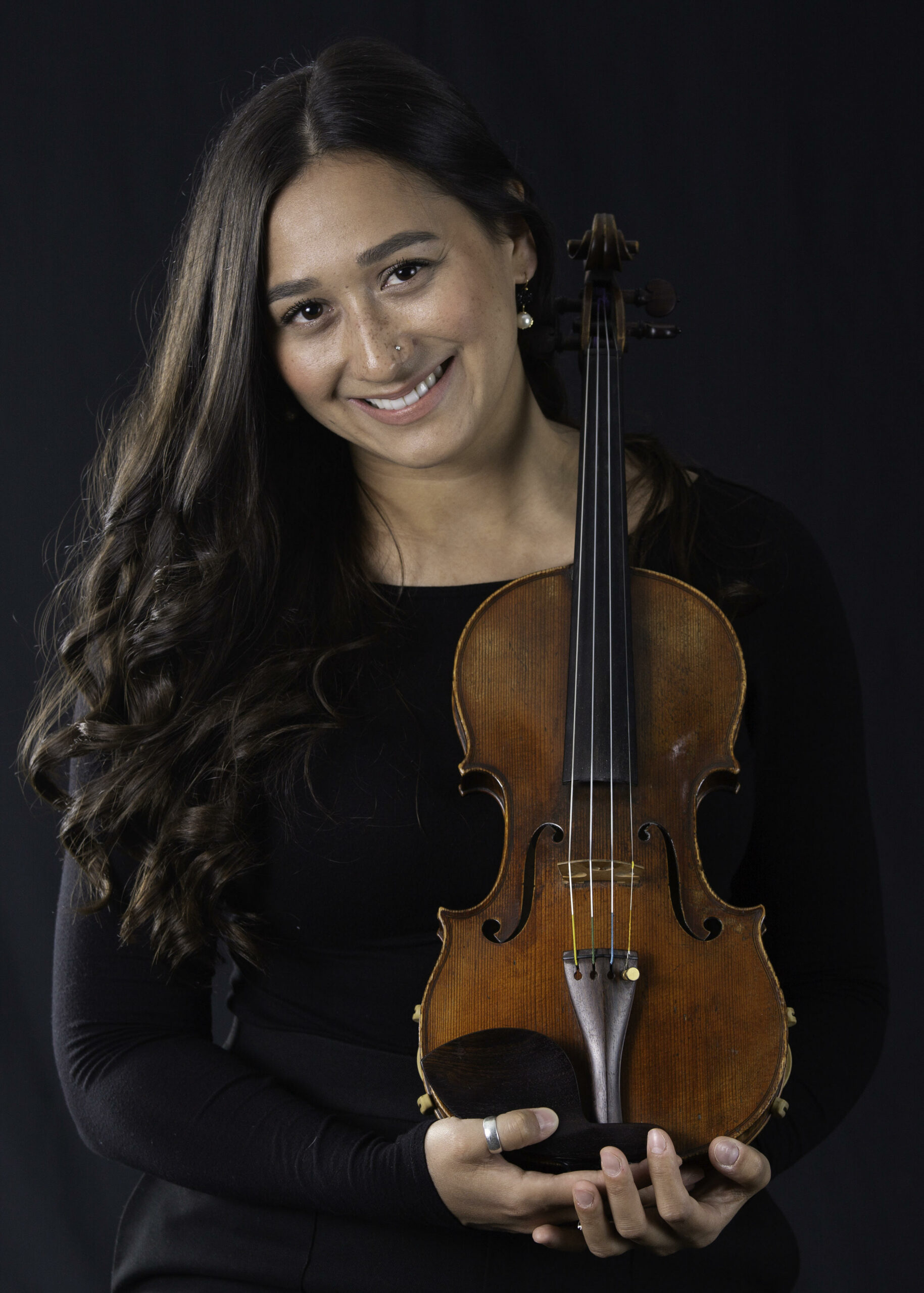 Sarah Williams
"I am passionate about teaching because I love connecting with children through music and getting to know their vibrant personalities! It is immensely rewarding to see a child improve after working hard and to observe them exude confidence after overcoming the challenging technique of playing the violin. I strive to be the best influence and inspiring role model I can be as a teacher, so I can help them develop life-long skills and show them the power and beauty of music."
Location: Barrhaven
Availability: TBC
More about Sarah...
Sarah Williams is a graduate of the University of Ottawa with a Bachelor of Music in performance. She started studying violin at the age of four with violinist Elaine Klimasko, founding first violinist with the National Arts Centre Orchestra. Furthermore, she has studied with Jonathan Crow, David Stewart, Yehonatan Berick, and Yosuke Kawasaki.
Her accomplishments include being a member of the National Youth Orchestra for 3 years (concertmaster at age 16), a member of the Gatineau Symphony Orchestra, a member of Thirteen Strings in Ottawa, a substitute member of the National Arts Centre Orchestra, and currently a member of the Ottawa Symphony Orchestra for 14 years, leading the second violin section.
Sarah has been a teacher with OSS for the past 12 years and has previously taught at the Nepean School of Music, Kanata School of Music, La Petite Fanfare summer music camp, and the Campbell Douglas Music Education Centre. She has completed her Suzuki Teacher Training books 1-6 and Every Child Can with Elayne Ras and Karen Kimmett.
Emma Dunbar
"For me, teaching is such a privilege, as it is an opportunity to introduce students to the beauty of music and the fascinating process of learning."
Emma is an active instructor with a decade of experience teaching violin, viola, piano, fiddle and theory of various levels and to all ages. Her experience includes preparing students for recitals, festivals, exams or just helping them have fun. Emma is certified in Suzuki Pedagogy, having taken long-term teacher training with Paule Barsalou. In her free time, Emma enjoys reading, going on walks and doing free improvisation.
Location: Downtown
Availability: Yes
More about Emma...
Emma Dunbar, originally from southern Alberta, studied violin as well as piano from an early age. Her most influential teachers were Fiona Carnie, Joan Barrett and Colleen Athparia.
After completing her Associate Diploma with the Royal Conservatory of Toronto (ARCT), Emma studied at Wilfrid Laurier University with Christine Vlajk and Jerzy Kaplanek, earning Bachelor's of Viola and Violin Performance and a Diploma in Chamber Music. Her next step will be pursuing a M.Mus in Viola Performance at the University of Ottawa with Michael van der Sloot.
Ryan Vis
"I am passionate about teaching Suzuki violin because of the profound impact it has on shaping the minds and fostering personal growth of not only the students, but also the parents. This opportunity allows me to share my knowledge, experience and empower the young minds for the future; and witness the unique transformation in each of the students and their families.
Location: Sandy Hill or University of Ottawa
Availability: Yes
More about Ryan...
Based in Ottawa, Ontario, grew up in Albany, New York and born in Seoul, South Korea, Ryan Vis is a dedicated violist and educator pursuing a Master of Music Performance in Viola at the University of Ottawa. He began his musical journey at age 3, playing the piano, and later took up the violin at 8 years old. He switched to viola at 12 due to the sonority fitting his personality more. Ryan teaches violin for Ottawa Suzuki Strings. He serves as the Orchestra Manager for the uOttawa Symphony Orchestra and manages social media for the Canadian Viola Society. Ryan is an associate member of the Ottawa Symphony Orchestra and the Orchestre Symphonique de Gatineau. He substitutes with the National Arts Centre Orchestra and has performed with Candlelight Concerts in Ottawa. He holds a bachelor's degree in Viola Performance from the McGill Schulich School of Music. Committed to music and education, Ryan actively participates in renowned musical events.
Ryan has completed Suzuki violin teacher training with Janet (Libby) Armour at the Virginia Suzuki Institute.
Sarah Als
"I am passionate about teaching because it brings me so much joy sharing my love of music with others. Being an integral part in one's musical development is so rewarding and special. There is no better feeling than seeing a student's face light up with excitement as they acknowledge their progress, leaving each lesson motivated and inspired." 
Location: Orleans
Availability: Yes
More about Sarah...
 Sarah Als is currently in the process of completing her Bachelor of Music in performance at the University of Ottawa. She began studying the violin at the age of four in Ottawa with Suzuki teacher, Laurie Goodman, and now studies the viola with Michael van der Sloot.  Sarah has played in various orchestras throughout the years, including the Ottawa Youth Orchestra, as well as the Ottawa Symphony Orchestra. Some of her accomplishments include attending Casalmaggiore International Music Festival in Italy, and attending Orford Music Academy in 2022 with a full scholarship. Sarah has been teaching violin for 3 years. In her free time, Sarah enjoys playing violin at numerous retirement homes across Ottawa, as well as playing chamber music with her colleagues.  She has completed Suzuki teacher training under the instruction of Jane Kutscher Reed and Libby Armour.  
Rachel Hwang
"I'm passionate about teaching because I love sharing my experiences and ideas to my students! Seeing students improve musically and as a person means so much to me."
Location: Nepean [Tanglewood]
Availability: Yes
More about Rachel...
Violinist Rachel Hwang was born and raised in Seoul, South Korea and moved to Ottawa, Ontario in 2014. She recently graduated from the University of Ottawa with a Bachelor of Music (violin performance) and Statistics. She is continuing her study in Master of Music Performance with Timothy Chooi. During her studies at the University of Ottawa, she mainly studied with Timothy Chooi and Yehonatan Berick. She has also studied with Nikki Chooi, Michael van der Sloot and Jean-Hee Lee. She has several years of teaching experience as well as orchestral and chamber experience. She took part in the Ottawa Symphony Orchestra Mentorship Program for a few years. Rachel attended the International Music Festival of the Adriatic (IMFA) in Italy and the Scotia Festival of Music Young Artist Program in Halifax.
Rachel has completed Suzuki teacher training with Margot Jewell.
Alexandre Silvestre
"I strive to share my passion with someone, to share what I learned throughout my training. There truly is something magical about learning music that inspires me to take an active part in that process."
Location: Gatineau
Availability: Yes
More about Alexandre...
Alexandre Sylvestre's story is a blend of music and academia, connected together by his genuine passion, a passion for which, combined with his curiosity and perseverance, he received the General Governor's Academic Medal.
Starting as principal second violin, he later became assistant concertmaster with the Orchestre Symphonique des Jeunes de l'Outaouais before joining the first violins at the Ottawa Youth Orchestra. With his former orchestra, he participated in the annual concert of the Lani Foundation, an organization dedicated to preventing youth's suicide, a cause close to his heart. Furthermore, guided by mentors like Catherine Gagné, David Thies-Thompson, and Elaine Klimasko, he found inspiration to develop his artistry.
Beyond the music sheets, Alexandre ventured into academia, currently pursuing a double major in music and biochemistry at the University of Ottawa under the tutelage of Timothy Chooi. Outside of school, he is a keen reader of poetry and is fond of long walks in nature.
Alexandre has completed Suzuki teacher training at the Southwestern Ontario Suzuki Institute.  Alexandre teaches in English and French.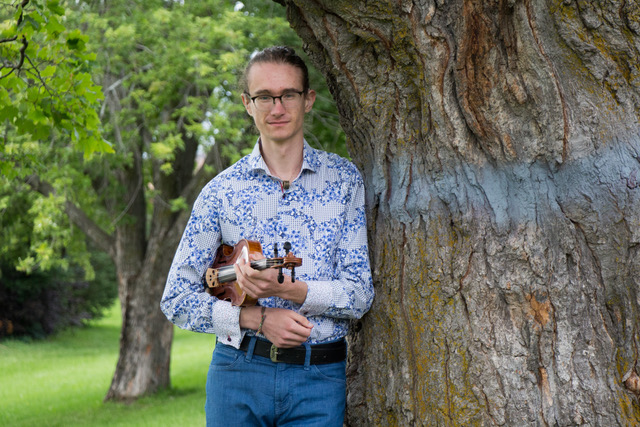 Naomi Brown
"I strive to create an inclusive and joyful learning environment that allows my students to thrive as individuals. My teaching is based on kindness, empathy, and fun, ensuring that my students not only excel but also find joy in their musical journeys."
Location: LeBreton Flats
Availability: Yes
More about Naomi..
Naomi Brown has almost a decade of experience teaching violin lessons to people of all demographics. As an alumna of her local Suzuki program, she embraces the Suzuki method and its power to foster a deep love of music through creating musical friendships and communities. She also has a passion for orchestral playing, having performed with the Newfoundland Symphony Orchestra for over five years.
Naomi incorporates her comprehensive knowledge of Body Mapping, a method of physical wellness and injury-prevention, into her teaching to empower her students to experience freedom in both music-making and movement.
Nathan Bredeson
"I grew up knowing hardly any other kids my age that played guitar, so I really appreciate the camaraderie that the students develop at OSS; having peers that are passionate about the guitar and supportive of each other is an invaluable motivator for young musicians. My goal as an educator is to introduce the guitar to my students as a life-long companion. I hope that every student that graduates from my studio takes with them a love of music, an admiration of beauty, and a desire for excellence."
Location: Kanata & Downtown
Availability: Yes
More about Nathan...
Featured as one of CBC's "30 Hot Canadian Classical Musicians Under 30 in 2018",  Nathan Bredeson is gaining international acclaim as an award-winning guitarist and composer. Nathan completed his Suzuki ECC and Guitar Book 1 training in 2017 with Andrea Cannon in Houston, Texas.  He has also adjudicated for music festivals such as the 2019 Kiwanis Music Festival in Sudbury and the 2019 Nationals of MusicFest Canada.
He earned his bachelor of music at the University of Ottawa where he studied with Denis Donegani (Canadian Guitar Quartet), and composition with John Armstrong and Frederic Lacroix. Nathan was awarded the Ed Honeywell Memorial Scholarship for classical guitar in 2013. He went on to complete his master's degree under the tutelage of the Cuban guitar virtuoso Rene Izquierdo at the University of Wisconsin Milwaukee.
Nathan's compositions have been featured in international competitions, including the Miami International GuitArt Festival and the Great Lakes Guitar Festival.  In 2016, his composition Astral Projection won first prize in the Ottawa Guitar Society Composition Competition.  Most recently, he was awarded second place at the 2019 Great Lakes Guitar Competition, adjudicated by Leo Brouwer.  He released his solo album, Nocturne, in September 2019.
Nathan also performs regularly with his ensemble, the Ottawa Guitar Trio, which is dedicated to bringing the best music from film, videotapes and classical repertoire to life on the guitar.  He is also a performer for Concerts in Care, an organization that brings live music to senior homes across Ontario.
Nathan teaches from his residence in Centretown.
Sofia Fernandes
"I am passionate about teaching because I love learning and want to share my love of learning with my students, who I hope will enjoy the process as much as I do. Seeing students progress on their instrument and develop musically is what drives me to keep teaching."
Sofia has been teaching guitar since 2015 both privately and in group settings.  She has completed her Suzuki ECC and Guitar Book 1 training with Jane Reed and MaryLou Roberts
Location: Kanata and Gatineau
Availability: Yes
More about Sofia...
Sofia Fernandes holds a Masters in Guitar Performance from the University of Ottawa where she studied under guitarist and composer Patrick Roux. She has also completed a Bachelor of Music at the University of Toronto, where she studied with guitarist Rob MacDonald. Sofia has attended and participated in many masterclasses by renowned guitarists around the world, including Ben Verdery, Steve Cowan, Ricardo Gallén, David Russell, Berta Rojas, Solo Duo, Carlo Marchione, Pavel Steidl and many others. With each of these masterclasses have come valuable lessons and experiences. Sofia has participated in music festivals in Portugal, Spain and Canada and has been a first-place award winner at the OMFA North York and Peel Music Festivals in Ontario.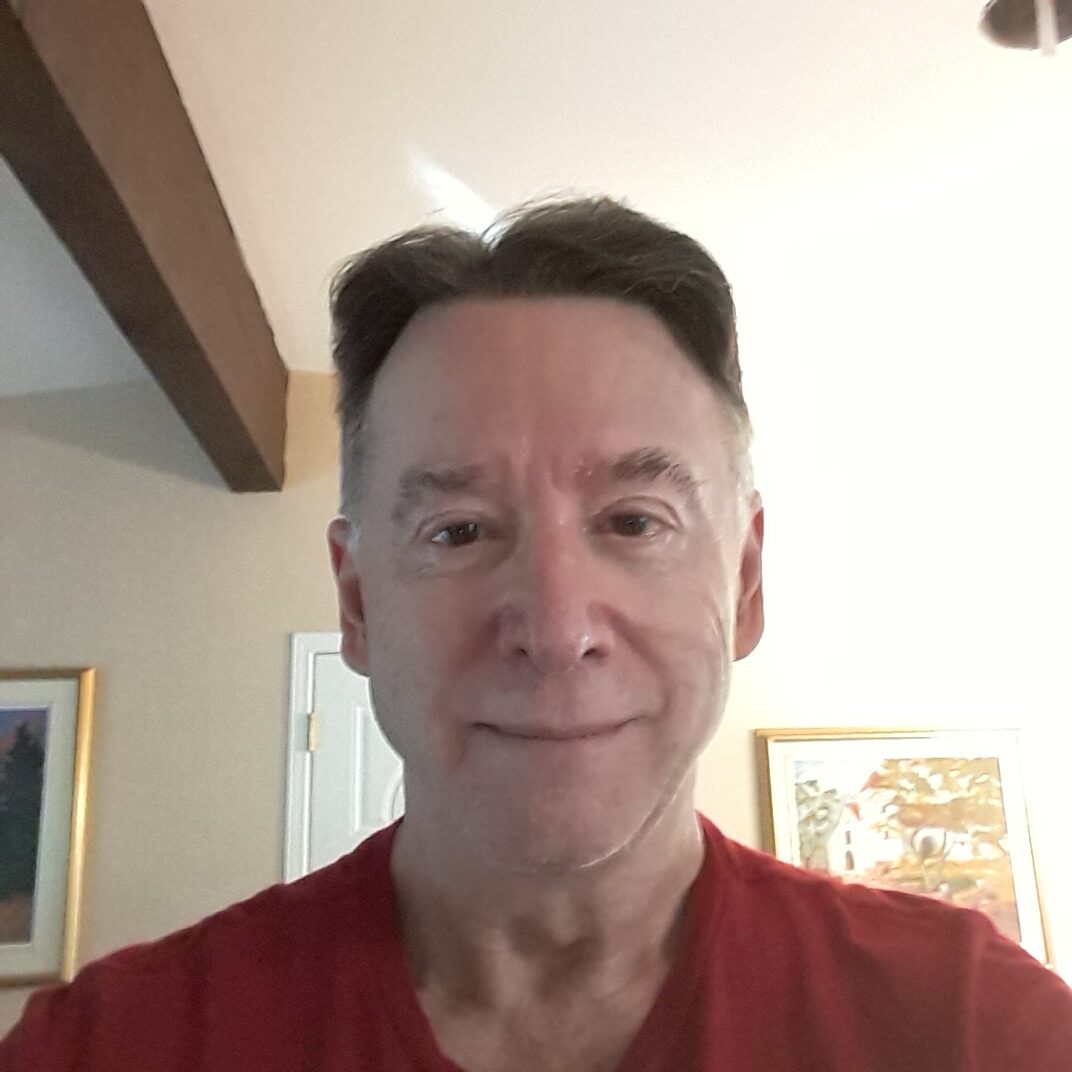 Frank Williams
Frank Williams is a graduate of the University of Ottawa (Hon. music, Hon geog., Conc. English), University of Western Ontario (M.Mus, MLIS). He comes from a musical family in which both parents sang in choirs. His daughter Sarah Williams is a professional violinist and is on the OSS faculty as a violin and group class teacher.
Location: Ottawa
Availability: TBA
More about Frank...
He was encouraged to take piano lessons from an early age. He also played clarinet in grade school, switching to electric guitar in high school and then to classical guitar and cello in the later grades and 1st-year university. Guitar teachers include Eli Kassner, Toronto Conservatory of Music. Cello teachers include Donald Whitton. He also studied theory privately with Dr. Frederick Karam in the 1970s while in high school before being admitted to the bachelor's program in theory and composition, at the University of Ottawa. He went on to study music at McGill University and then University of Western Ontario where he obtained his master's degree in theory and composition and master's degree in library and information science.
Teachers include Bruce Mather (analysis), Claude Baliff (analysis and composition) John Rea (composition) Arsenio Giron (composition). He's been teaching theory, analysis, and ear training in classroom settings (including at the university level) and privately for 35 years. He was map/geographic information systems librarian at the University of Ottawa for 25 years and is now retired. He teaches theory privately from his home studio.
Judith Ginsburg
School Director and Collaborative Pianist
"Pianist Judith Ginsburg, possibly the best of Ottawa's regular accompanists, had a fine rapport with the soloist and was deft and musical, as always." (Ottawa Citizen)
Judith is in great demand as a collaborative pianist. For several years, she was a faculty member of the National Arts Centre's Young Artists Program as a Collaborative Pianist. She is a Pianist and Managing Director with the Ottawa Suzuki Strings music school, Founder and Artistic Director of the Chamber Opera Company Ottawa (COCO) and a MASC Artist.
More about Judith...
Judith was the longtime Principal Repetiteur, Opera Studio Manager and Music Director of the Opera for Young Audiences program with Opera Lyra Ottawa. She is a frequent performer in the Ottawa International Chamber Music Festival, the Music and Beyond Festival, and has been heard in the National Arts Centre's Music for a Sunday Afternoon, Almonte in Concert Series and on CBC Radio. Judith has collaborated with many of Canada's leading artists and has performed extensively in Canada, the United States, and Europe. Her teachers have included Jean-Paul Sevilla, Paul Hamburger, Martin Isepp and Seymour Bernstein.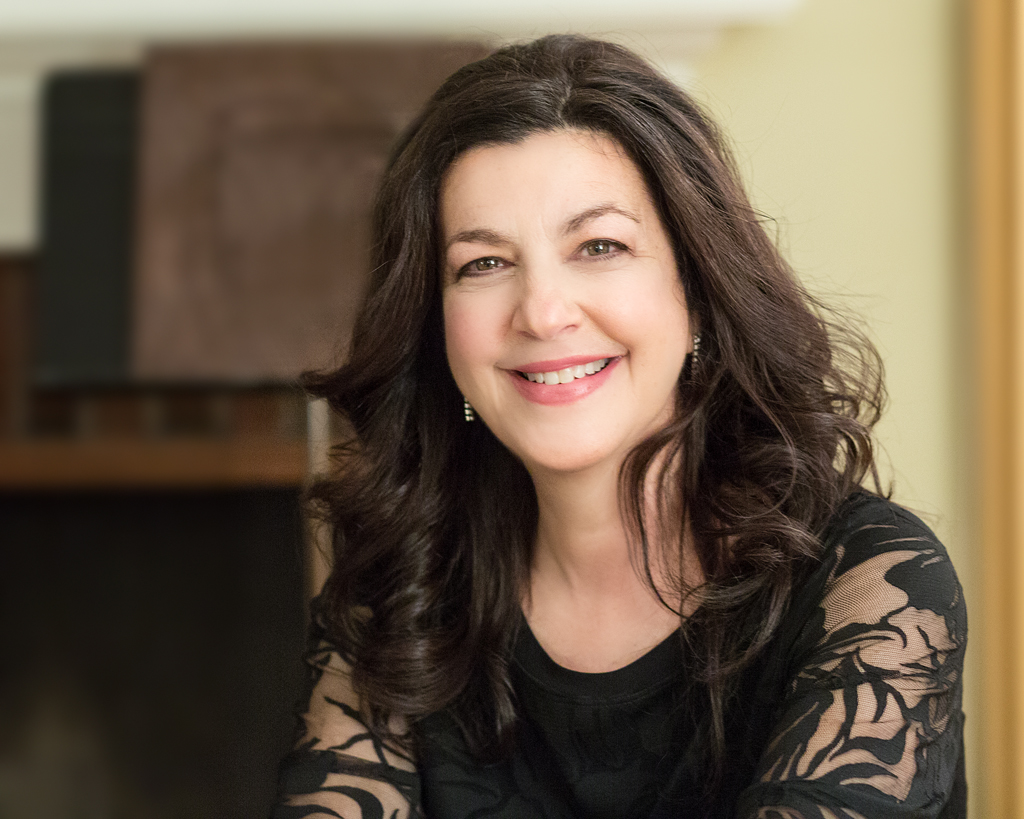 Board of Directors
Paul Keen: President
Dan Harrel: Treasurer
Francine Schutzman: Secretary
Jesse Buzzie
Deanne Donohue
Judy Ginsburg: Advisory Member
Patricia Grassals
Christy Harris
Sarah Kalhok
Christopher Millard
Peter Nielsen
Tetiana Senyshyn
Emad Talisman
Administration
Judy Ginsburg: School Director 
Rosemarie Klimasko: Co-founder and Artistic Advisor
Elaine Klimasko: Artistic Advisor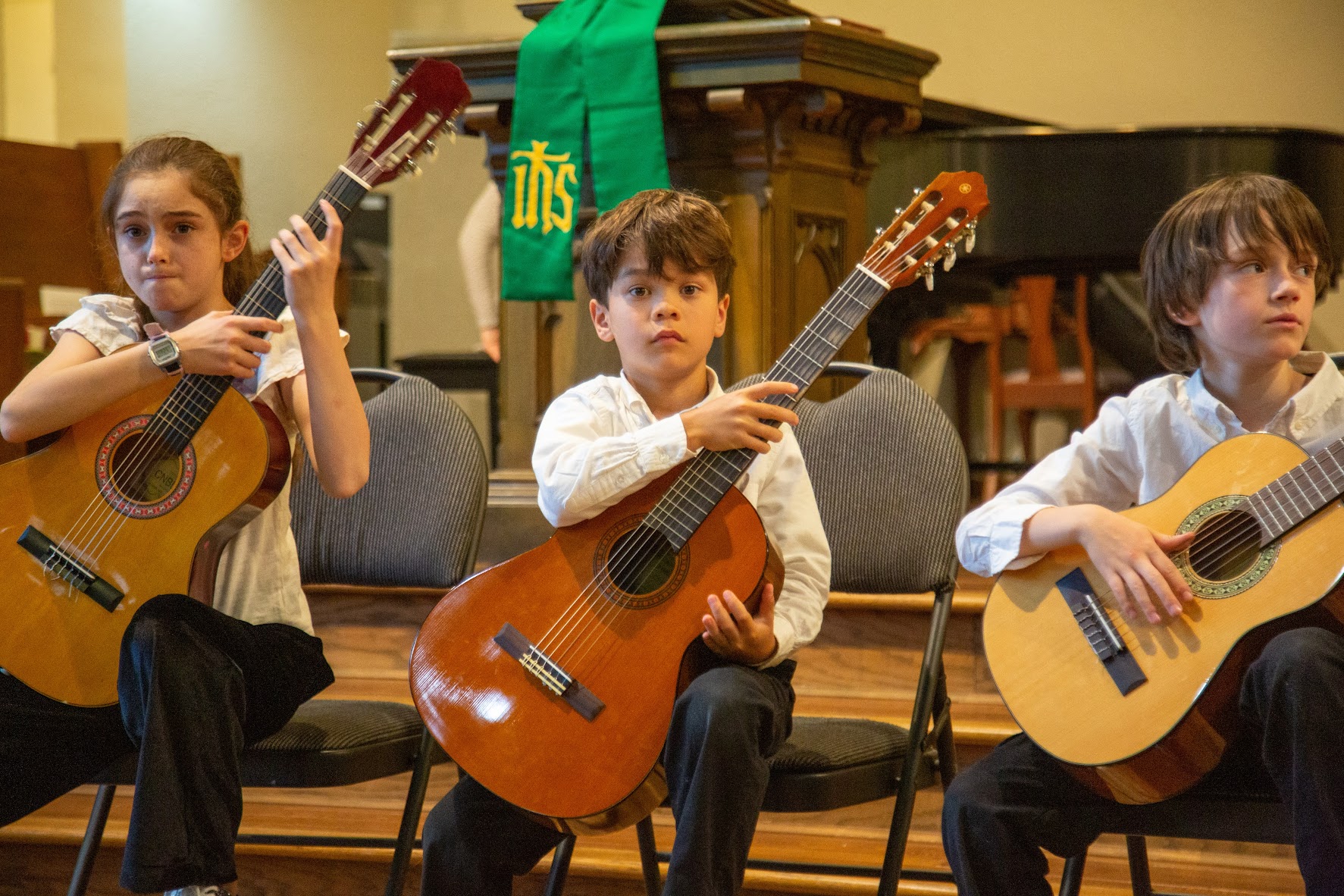 Are you interested in starting or continuing your child in Suzuki music instruction?
To start please read our faculty biographies.  Then contact our School Director Judy Ginsburg who will help you choose and contact a teacher in your area. Judy may be reached at admin@ottawasuzukistrings.ca or by phone at (613) 369-4376.
To complete the registration process please submit the Registration and Volunteer Forms.
Ottawa Suzuki Strings depends on volunteer power! We thank you in advance for volunteering (4 hours or more per year).
Donate
We count on the generous donation of community members.
We would like to recognize the Algonquin Anishinabeg Nation, on whose traditional unceded territory we operate. We gratefully acknowledge them as the past, present and future stewards of this land.
© Ottawa Suzuki Strings. All rights reserved.