NURTURING PERSONAL EXCELLENCE
The Suzuki Method is based on the principle that all children possess ability and that this ability can be developed and enhanced through a nurturing environment. All children learn to speak their own language with relative ease and if the same natural learning process is applied in teaching other skills, these can be acquired as successfully. Suzuki referred to the process as the Mother Tongue Method and to the whole system of pedagogy as Talent Education.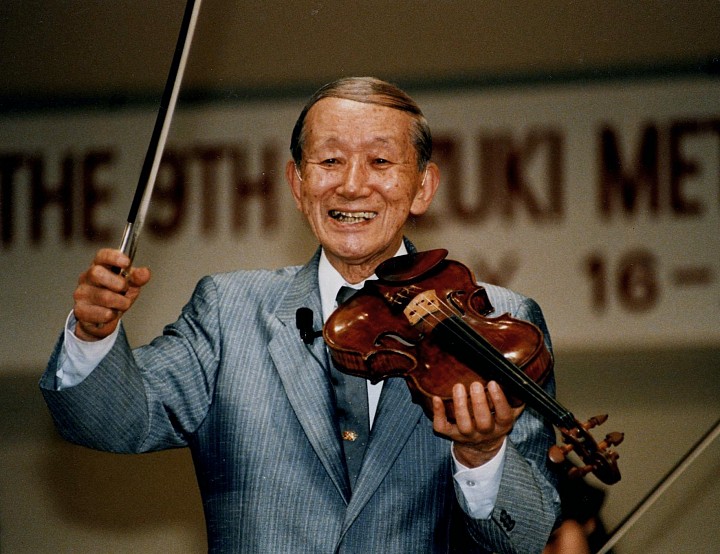 "Teaching music is not my main purpose. I want to make good citizens, noble human beings. If a child hears fine music from the day of his birth and learns to play it himself, he develops sensitivity, discipline and endurance. He gets a beautiful heart." – Shinichi Suzuki
Registration is open for the 2023-2024 Ottawa Suzuki Strings (OSS) school year. At OSS, we offer the joy of learning music with private lessons and group classes which seek to nurture the whole child by developing independence, discipline and other life skills, providing a high-quality music education which supports all students in their pursuit of personal excellence. Along with the opportunity to make friends in group classes, students are immersed in different cultures through the diversity of the student population. 
Providing a Suzuki-inspired education to nurture personal excellence, musicality and the human spirit, thereby enriching the whole child, families and the community.
Ottawa Suzuki Strings is a music school characterized by a culture of innovation in training and development. The school aspires to become widely recognized for the quality of its pedagogy and for the achievements of its students and faculty.
Our school has an inclusive culture where students are encouraged to strive for personal excellence. We seek to create opportunities for all children, including those who face specific challenges.
In the practice of our teaching, and in our operations as a school, we will nurture strong parent-teacher-student relationships with close ties to the community. We undertake to foster, recognize and appreciate the contributions and achievements of our members. We will support our members' development through an active program of individual and group study and performance.
Paul Keen (President)
Dan Harrel (Treasurer)
Francine Schutzmann (Secretary)
Jesse Buzzie
Deanne Donohue
Judy Ginsburg (Advisory member)
Patricia Grassals
Christy Harris
Elaine Howlett
Christopher Millard
Tetiana Senyshyn
Administration
Judy Ginsburg: Managing Director and Acting Artistic Director
Rosemarie Klimasko: Co-founder and Artistic Advisor
Elaine Klimasko: Artistic Advisor
Learn, Play, and Perform
Ottawa Suzuki Strings is a music school providing violin, viola, cello and guitar instruction using the Suzuki Method. Our experienced faculty have music degrees and are trained in Suzuki pedagogy. Students range from very young "Twinklers" to advanced students in Stellae Boreales.​
Private Lessons, Group Classes, and Performance Opportunities
Students get a broad and exciting music experience, and some distinguish themselves by competing in local and provincial competitions and have also had the opportunity to perform in other Canadian cities and overseas.
Please complete a separate form for each registrant and send via email to admin@ottawasuzukistrings.ca. Please use REGISTRATION in your subject line.  You may call our Managing Director at any time at 613-569-7995
Donate
We count on the generous donation of community members.
We would like to recognize the Algonquin Anishinabeg Nation, on whose traditional unceded territory we operate. We gratefully acknowledge them as the past, present and future stewards of this land.
© Ottawa Suzuki Strings. All rights reserved.