Support Ottawa Suzuki Strings
We achieve our mission by…
using a method inspired by the pedagogical philosophy of Shinichi Suzuki
providing a well-balanced learning experience
working with a well-trained faculty
offering private and group lessons
including various string instruments – violin, viola, cello, guitar and voice
encouraging performances for various age groups
To complete this mission, we count on the generous donation of the community members and the parents of the students attending the school. Your contributions help strengthen the musical community in the National Capital region.
OSS is a CRA Registered Charity
848388252RR0001
Ottawa Suzuki Strings Bursary Fund
Available to new students as well as existing ones, this fund enables promising students facing financial constraints to attend the School.  Applications may be submitted at any time to the school administrator.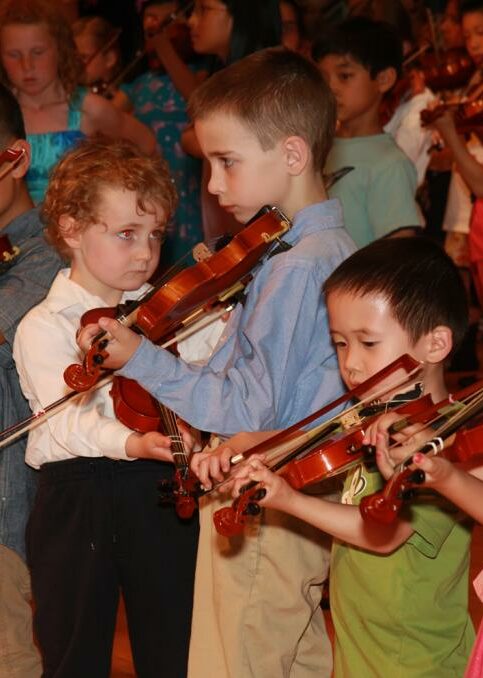 Rosemarie Klimasko Scholarship Fund
Scholarships from this fund will be awarded only to existing OSS students who:
have a good history of attending group classes
eagerly commit to our concerts in the community
demonstrate leadership skills and camaraderie with their peers in group classes and outside venues
exhibit sound practice habits in the studio and fine performances in studio recitals
Scholarships will be awarded once a year toward the end of the OSS school year. Those interested in applying for a scholarship should write to the school administrator at admin@ottawasuzukistrings.ca.
Are you interested in starting or continuing your child in Suzuki music instruction?
To start please read our faculty biographies.  Then contact our School Director Judy Ginsburg who will help you choose and contact a teacher in your area. Judy may be reached at admin@ottawasuzukistrings.ca or by phone at (613) 369-4376.
To complete the registration process please submit the Registration and Volunteer Forms.
Ottawa Suzuki Strings depends on volunteer power! We thank you in advance for volunteering (4 hours or more per year).
Donate
We count on the generous donation of community members.
We would like to recognize the Algonquin Anishinabeg Nation, on whose traditional unceded territory we operate. We gratefully acknowledge them as the past, present and future stewards of this land.
© Ottawa Suzuki Strings. All rights reserved.